A Goodman's Guide to... is a quick and easy-to-use field guide for specific models of cameras. Each guide is written from an operator's perspective to enable you to master the camera and maximize its performance in the field. This series is written by noted filmmaker Robert M. Goodman.
Designed for quick access to information, each guide presents a complete anatomy of the camera and clear, concise, understandable descriptions of every function and feature. Each guide demonstrates the capabilities of the camera in a section called "Creating Looks." Recipes developed specifically for each camera, produce the gorgeous images that are depicted in the book in a grid for easy comparison. Whenever possible the recipes or setup files that alter the way the camera reproduces a scene are provided on a CD that comes with the book. This CD also includes the original images used to illustrate the range of the camera's color, tone, and detail controls. The Goodman's Guides for professional cameras also include a set of operator's tool cards. These laminated cards that can be stored in a front box include useful charts, tables, and notation cards.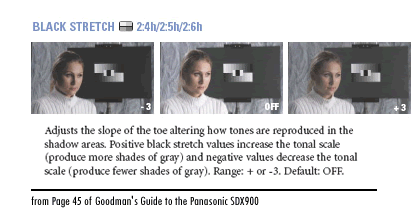 Every Goodman's Guide is designed to withstand the rigors of field use and is intended to go with you where ever you take your camera.