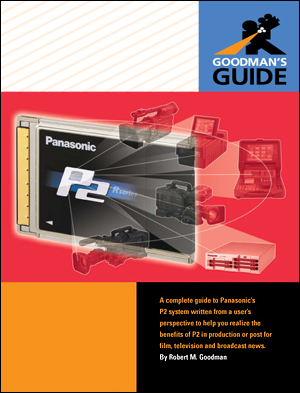 Using P2? Get the new Goodman's Guide Today!
The Goodman's Guide to the Panasonic P2 System is THE comprehensive reference for: over 30 P2 camcorders and devices; techniques for production and news; and workflows for post production. The information you need is at your fingertips. Ample illustrations and photographs lead you step-by-step through dozens of P2 techniques and procedures. Clear, concise explanations answer all your questions.

This ultra-practical tool is designed with you in mind. A stunning visual presentation lets you understand at a glance the entire P2 menu structure for easy navigation. It also works as a convenient index for the guide. Our rugged field-tested ring binder lets you update your Goodman's Guide and add your own notes.
Check out our Goodman's Guide to the Panasonic P2 System excerpt which features:
The full Table of Contents
The Ground Rule excerpt
P2 Software excerpt
P2 System Accessories excerpt
P2 in Post Production excerpt
The currently available Goodman's Guides are:
Panasonic SDX900 NTSC
Panasonic SDX900 PAL
Panasonic Varicam
Grass Valley™ Viper FilmStream Camera
Panasonic HDX900
Delivers the answers you need 24/7!